This post may contain affiliate links. Please read my disclosure for more information.
The Fall season is almost here and I'm sure you're looking for some really fun fall decor ideas for your home. In order to save you those hefty costs for store bought fall decor, I've searched the web for some awesome affordable ideas that will make your home look great!
Did I mention that they're easy to put together and won't suck up all your time?
Read on to see the ideas I complied and let me know which ones you like!
Copper Pumpkins Fall Centerpiece
Learn to make this from Up To Date Interiors
I love this gorgeous centerpiece so much! Plus is so easy to make and will fit right into your fall decor seamlessly.
Learn to make this from Thrifty Decor Chick
This chic fall inspired wreath is a great way to accentuate your door this fall. If you like it, definitely check it out.
Fall Candle Centerpiece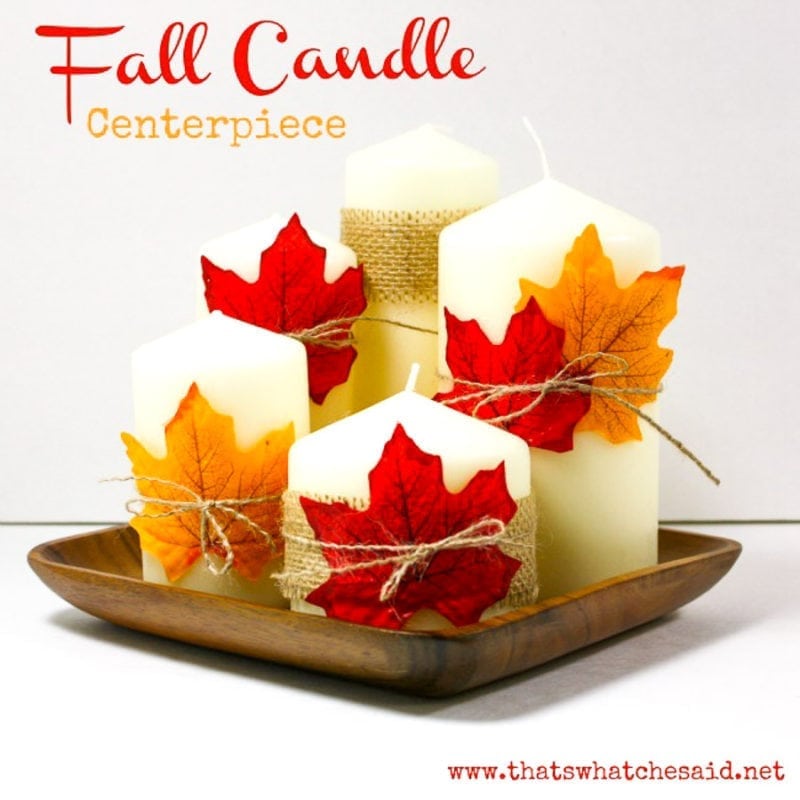 This is a beautiful centerpiece for fall decor. You can learn how to do this from That's What Che Said.
Spray Painted Pumpkins
Learn how to make this on Hip 2 Save.
Moss Candle Centerpiece
If you want to learn how to make this beautiful centerpiece, check out Crafty Teacher Lady for instructions.
Candy Corn Votive Display
Crafty Teacher Lady also has this amazing fall inspired votive display that I thought I should share with you. If you want to learn how it's made, check out  Crafty Teacher Lady.
Fall Inspired Burlap Pillow+
Isn't this set up gorgeous? If you want to learn how to achieve this look, check out Opulent Cottage for instructions.
Fall Inspired Mantel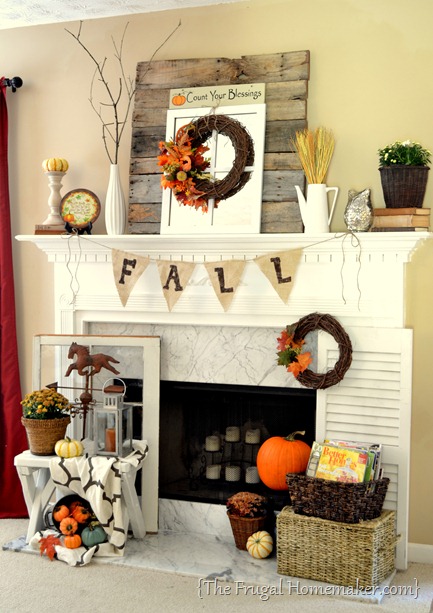 I absolutely love this fall inspired mantel by Christina at The Frugal Homemaker. I thought I'd share it here since I know you will appreciate this as much as I do!
Fall Front Porch
This is absolutely beautiful! If you're looking for inspiration for your front porch this fall, this is something you must check out. Find out more at Fun Home Things.
Leaf Art
Learn more from Midwest Living.
If you're looking for a great idea you can (probably) execute with the kids, then this is it. It's simple, fun and can add a  unique touch to your walls this autumn!
Colorful collection
Learn more from Midwest Living.
This is super easy to make and definitely embodies fall with those beautiful colors. Try it out if you love to dabble in DIY home decor, but don't like to spend a whole bunch of time on such projects.
Mantel of gourds
Learn how to make this from Midwest Living.
This adds a beautiful 'fall vibe' to any mantel. I really love how simple and colorful this idea is.
Sunburst wreath
Learn more about how to make this from Midwest Living.
 Rustic Wine Caddy
You can find the instructions for this beautiful wine caddy from Yesterday On Tuesday.
A Farmhouse Door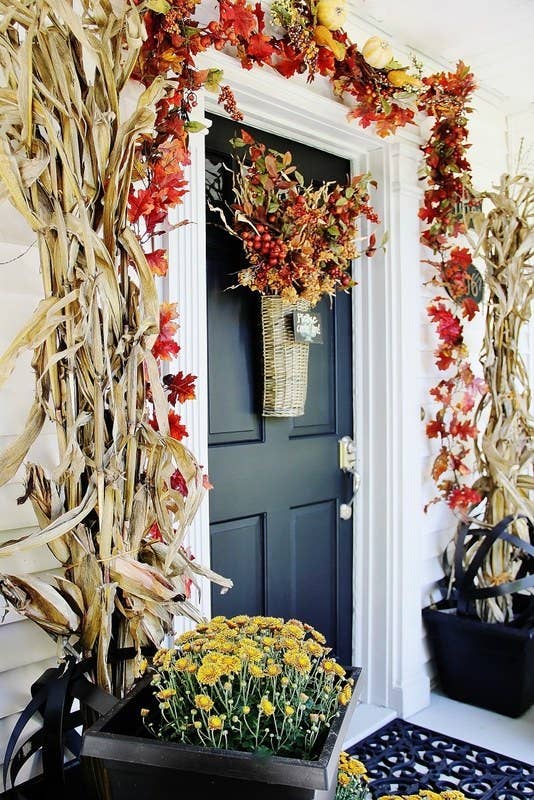 Find these instructions at Thistle Wood Farms.
Choose any of these unique fall decor ideas to start making your home ready for the fall season. They're easy to make, cheap and will make your home the envy of the neighborhood this fall!