This post may contain affiliate links. Please read my disclosure for more information.
It's no secret that we all want to save money. But sometimes It just seems so difficult to actually put money aside. Especially when there are so many various demands in life such as bills, taking care of kids, mortgages, car notes, and the list goes on.
It often seems outright impossible to get an extra few bucks to actually save money. This is why I'm sharing some of my best-kept secrets to helping me save money every year. The best part is that they're all so easy to do that you won't even feel like its a big deal…but it will be a big big deal when you realize just how much you've actually been able to put aside.
Join a cashback site like

Befrugal
This sounds really lame, right? Last year I tried a cashback site befrugal (I shop online a lot so it makes sense) and I was able to save over $2000 in a year! This is money that came right into my PayPal account.
It's amazing! If you want to try it out this year, simply follow these easy steps. Remember you need to actually USE this site when shopping online to be able to make/save the money. So please don't go into it, sign up and forget it, because it just won't work that way.
1. Use this link to sign up for befrugal
2. After you've signed up, you can use that you open up befrugal's website right BEFORE you shop for anything. Type in the nake of the 'site you're looking to shop from' to activate your cashback
3. Shop away and see your cashback roll in!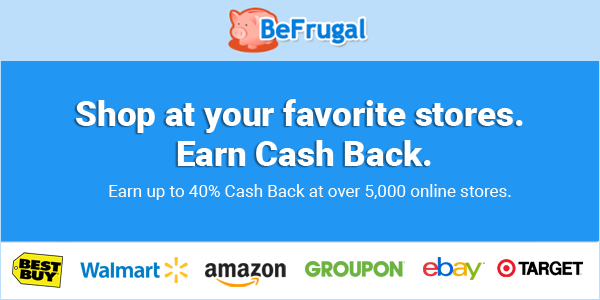 2. Start a simple savings challenge
So far, this has really helped me to save a lot. Last year I tried the 52-week saving challenge and it worked great for me. This year, I'm going to try out another 52-week savings challenge to save tons of money. Doing this challenge can help you put aside over $1700!
If you want to try out this challenge, simply click here for the information.
3. Eat less or Eat Differently
This sounds pretty bland or even stupid, right? Eating less is so obvious and must be overrated right? But it's actually not. My family and I went on a serious food cutting spree last year and boy were we surprised at how much money we actually saved. Instead of eating any old thing (like we were used to) we became really purposeful and only ate healthy foods (and it wasn't as expensive as it may seem)
We enjoyed a variety of fruits, nuts, and veggies at every meal. Surprisingly, I expected to feel super hungry only eating those foods, but after a week, I started to feel pretty satisfied with this change and I noticed that I was eating a lot less.
This did two things for us. It helped us to feel fuller faster and for much longer which helped us save on groceries and it also helped us to trim down quite a bit.
4. Cut out impulse spending
This is easier said than done, but I'm hoping that once you read this it'll help you make up your mind to cut off spending and actually save your coins.
Did you know that on average we spend thousands of dollars on impulse buying each year? Image just how much money you can save by just cutting this bad habit out. I've found myself a diary and I make sure to outline every single purchase I need to make each week and I stick to that, This helps me save so much money it's ridiculous. I've found that I can easily spend hundreds of dollars a week on silly items I don't use more than a couple of times. Plus, I can put this money towards my weekly savings which is a plus for me.
By trying out all or even one of these methods this year you will be able to save more than $5000 this year. This is a big deal if you're actively trying to get better with your finances. Plus, it a great way to develop more discipline when it comes to money.
Let me know which of these ideas you like.